The video is here
One of the primary functions of our hearts is "seeing." We really don't see things in our minds eye, it's the job of our hearts. Having a vision in your heart of the dream that God has given you is the first step toward having your dream come true. Envisioning or imagining your future plan (seeing it in your heart) is a source of hope. The picture seen in our hearts is what gives us access to the power of God to make it happen… That's just how faith works. You have to see it before you can believe it or do it.
I pray also that the eyes of your heart may be enlightened in order that you may know the hope to which he has called you, the riches of his glorious inheritance in the saints, 19 and his incomparably great power for us who believe. Eph 1:18-19 NIV
Basketball – When I was in high school, I used to imagine the game being played the night before. I would see myself taking jump shots that went in; watching a movie in my heart of the whole game. We won our local tournament when I was a junior and senior. As a senior, our team never lost a home game and I was the first selection on the coach's all-conference team. I spent countless hours in practice and perfecting my game from the age of six before all that happened. When the announcement was made in front of a cheering crowd, I totally expected it. It actually felt like déjà vu – I had seen it before in my heart. My point is that every of success in our lives has roots in both the work of preparation and the vision in our hearts.
Great expectations – We each carry an anointing and a plan God pre-wired into our hearts that is much more exciting than we realize. People who tap this genius of their Kingdom calling to become creative and prosperous tap this simple, Biblical concept of using their "image-maker" – the ability to see through the eyes of their heart. They see what their Father is doing and what they are called to do and they envision it happening as a precursor to believing with their minds, saying it with their mouths and doing it with their hands. It all starts with a seed… a prophetic word or picture that God drops into our spirit. We stop and focus on the word and picture it becoming reality in our hearts. That simple process of focus causes the word picture to grow into reality. We are imaging or imagining the word becoming flesh.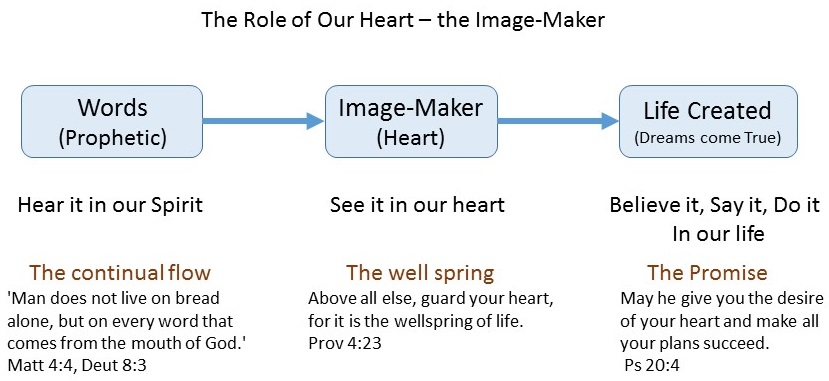 Meditations of the heart – There is a certain discipline in giving our hearts permission to dream and picture the seeds that God drops into our lives. Meditation is not letting your mind go blank like a clean slate; it is not memorization or word studies of definitions and meanings; it is not an altered state or repetitious chanting. Mediation is simply seeing your future with a picture in your heart that matches the plan of God. It is very active and intentional. We might also point out that this dream process is something Kings are inclined to do and servants are inclined not to do. The meditations of our heart are pictures that precede the confession of the words of our mouth. We see it before we say it.
It is the glory of God to conceal a matter; to search out a matter is the glory of kings.  Prov 25:2
May the words of my mouth and the meditation of my heart be pleasing in your sight, O Lord, my Rock and my Redeemer. Ps 19:14 NIV
The Nature of the Kingdom – One of the key ingredients of Kingdom is the reality that God works through the desires of our hearts. Religion has portrayed those desires as evil and left us with fears of selfishness and idolatry. It is true that hearts can be evil and the images in hearts can be idols. However, we have traditionally abandoned the normal, healthy functions of our hearts because of sinful exceptions.
The Lord saw how great man's wickedness on the earth had become, and that every inclination of the thoughts of his heart was only evil all the time. Gen 6:5-6 NIV
The good news is that God has decided to put a new spirit in us and write some really cool stuff in our hearts. Spiritual maturity is unwrapping the good things God and put in our hearts and making a conscious effort to exchange the negative scripts and pictures in our hearts with what is good and holy and perfect.
This is the covenant I will make with the house of Israel after that time, declares the Lord. I will put my laws in their minds and write them on their hearts. I will be their God, and they will be my people. Heb 8:10 NIV
I will give you a new heart and put a new spirit in you; I will remove from you your heart of stone and give you a heart of flesh. 27 And I will put my Spirit in you and move you to follow my decrees and be careful to keep my laws. 28 You will live in the land I gave your forefathers; you will be my people, and I will be your God. 29 I will save you from all your uncleanness. I will call for the grain and make it plentiful and will not bring famine upon you. Ezek 36:26-29 NIV
Most of us have some really negative scripts and pictures running as themes in our hearts which need to be replaced. These movies produce fear, anxiety, cynicism, and depression. Horror flicks in our hearts don't reflect the God's plans at all and they shape negative expectations for our future. We naturally interpret everything from news events to the Bible in light of the devil's plan instead of God's. The easiest way to expose a lie or a half-truth isn't to confront it directly.  We defeat deception and fear by putting them right beside the truth and courage. The difference is very obvious and easy to see.
Finally, brethren, whatever is true, whatever is honorable, whatever is right, whatever is pure, whatever is lovely, whatever is of good repute, if there is any excellence and if anything worthy of praise, dwell on these things. 9 The things you have learned and received and heard and seen in me, practice these things, and the God of peace will be with you. Phil 4:8-9 NASU
Make your movie – Here is your homework assignment from God. Get the picture in your heart of what you and God want to make of your life. Make a decision to water the garden of that picture. Pull the weeds of doubt and fear and prune the branches of dead ends and wrong directions. God has already planted the seed in the garden of your heart. It's our job to see the movie ahead of time and make the dream come true with his power and anointing.
In the Kingdom, we are not continually at the front of the battle or the top of our mountain. There are quiet times and seasons on the sidelines. Our strategy is to spend those seasons in the garden of our heart with the Lord… Abiding with Him and making movies around the desires of our heart. We use a Heart Plan to help people connect with their Kingdom purpose, a business plan and cash flow.
If you remain in me and my words remain in you, ask whatever you wish, and it will be given you. 8 This is to my Father's glory, that you bear much fruit, showing yourselves to be my disciples. John 15:7-8 NIV
Personal note:
Clive Wilson is a friend who has known me for several years and is familiar with Releasing Kings, attended our conferences, etc. He suggested I look into Larry Napier's work on Rediscovery of the Heart because it ties in with so much of our work at Releasing Kings. Clive is right and I want to recommend you take a look at it. I liked it so much I became an affiliate http://rediscoveryoftheheart.com/johngarfield …haven't been able to stop watching the videos. They are really good.
Suggestions:
Books – Releasing Kings and Desire to Destiny
Newsletter Archive – http://releasingkings.com/newsletter
Coaching Tools – http://releasingkings.com/coaching-tools/