The video is here.
One of our favorite phrases that describe Kingdom is "Have fun, make money and love people." While that is a legimate experience we all aim for, there is another side to building the Kingdom: warfare. When we start to make a difference in the Kingdom, we also get to share Jesus' suffering, rejection, persecution and demonic attack. We don't live in tests and trials, but we do get to go through them.
Conquering Karma – It's common for believers to theologically attribute everything that goes wrong to God testing us. God can do that (He's the kind of God who can do whatever He wants). However, suffering and loss are nearly always the work of the enemy. Blaming yourself or your immaturity for every "test" that comes along is a little like "condemnation karma" – believing that your past sins are revisiting you via God's judgment. Grace and reincarnation are polar opposites. Forgiveness and the Holy Spirit feel much more liberating. Jesus really does forgive, wash and remove sin so that we don't have to pay the price.
The source of spiritual warfare must be clearly seen to resist it effectively. It's pretty simple: God good, satan bad. If the devil can convince you that his attack is from God, you won't resist it.
The thief comes only to steal and kill and destroy; I have come that they may have life, and have it to the full. John 10:10 NIV
Submit yourselves, then, to God. Resist the devil, and he will flee from you. 8 Come near to God and he will come near to you. James 4:7-8 NIV
Targeting your heart – Enemy attack can come against relationships, finances, work, ministry, and health… every area of our life. It's important to understand the enemy's biggest prize is your heart. If he can get you to give up on your Kingdom dream, you will be effectively neutralized in terms of your destiny, and become content with mediocrity. It's not hard to get discouraged and feel like God has abandoned us when nothing is going according to plan. Doors don't open and finances are scarce. Delays, appeals and false accusations make our lives feel like Joseph's prison. What we once dreamed of by faith starts to feel impossible in the natural. Our hearts begin to retreat.
Above all else, guard your heart, for it is the wellspring of life. Prov 4:23 NIV
Why? – Our hearts always ask, "Why this?" "Why me?" "Why now?" Viewing God as a cruel taskmaster who enjoys inflicting pain on His people is neither helpful nor true. The simple reason is that warfare is part of establishing the Kingdom. We shouldn't be surprised or amazed or flee from it.
Dear friends, do not be surprised at the painful trial you are suffering, as though something strange were happening to you. 13 But rejoice that you participate in the sufferings of Christ, so that you may be overjoyed when his glory is revealed. 1 Peter 4:12-13 NIV
A way of escape – Here's part of our escape pathway: If we can keep our eye on Jesus during a warfare, we become eligible for a miracle. Although the Kingdom is built on our dreams, creativity and initiative, the miraculous presence and intervention by God is always a necessary ingredient. The point is that miracles aren't necessary until we're in an impossible situation. That's never pleasant. Death is a fearful thing. Death of our dreams is a frightening reality for all of us. Faith is a weapon. In the Kingdom, the larger reality is that death is just the predecessor of resurrections. God does intervene, miracles do happen, dreams do come true; what seems impossible happens with ease when God intervenes. We cannot really represent Jesus in the Kingdom without this miraculous ingredient, the fragrance of death turned to life. Developing faith for an expectation of God's resurrection power is a pathway that always winds its way through experiences with death… for all of us.
For we are to God the aroma of Christ among those who are being saved and those who are perishing. 16 To the one we are the smell of death; to the other, the fragrance of life. 2 Cor 2:15-16 NIV
Those who have been through death and resurrection walk with a limp the rest of their lives. Their depth, humility and love are easily felt by others. It's simply spiritual maturity, and it enables us to impart into the lives of others something tangible and miraculous that would otherwise seem very superficial.
Choices – All of our hearts face the choice of our destiny and dreams with all the warfare that goes with it, or we can settle for something less, without as much hassle. I want to suggest that your dream is worth pursuing. There really is a place of abundance and 100-fold fruitfulness that is more precious than gold. The price is high, but buying the best does cost more. Choose life… resurrection life.
For you, O God, tested us; you refined us like silver. 11 You brought us into prison and laid burdens on our backs. 12 You let men ride over our heads; we went through fire and water, but you brought us to a place of abundance. Ps 66:10-12 NIV
The crucible for silver and the furnace for gold, but the Lord tests the heart. Prov 17:3 NIV
I counsel you to buy from me gold refined in the fire, so you can become rich…  Rev 3:18-20 NIV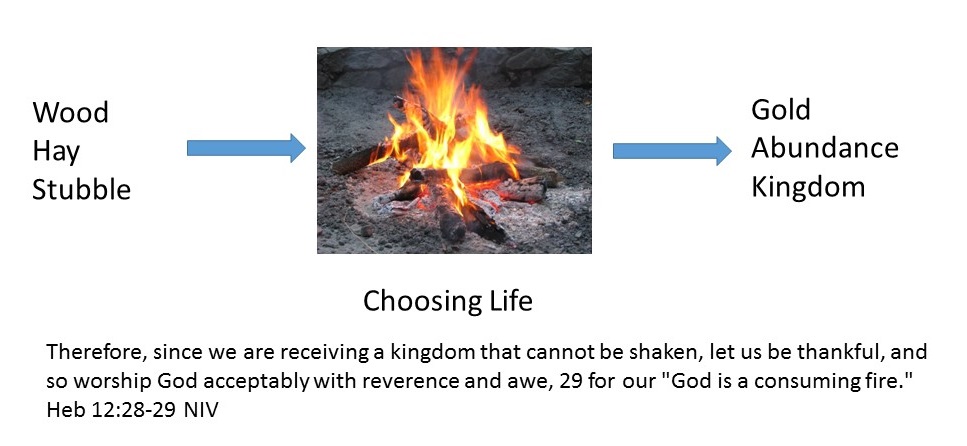 Suggestions:
Books – Releasing Kings and Desire to Destiny
Newsletter Archive – http://releasingkings.com/newsletter
Coaching Tools – http://releasingkings.com/coaching-tools/