Doug Meadows
David Douglas Diamonds and Jewelry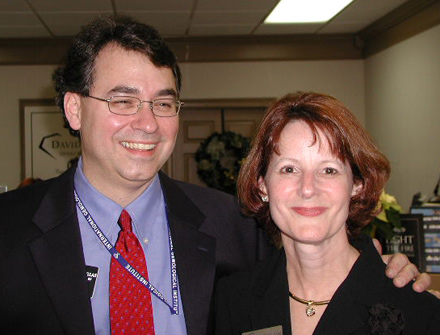 Doug & Mary at their annual Ladies Night Out event
Chocolate & Diamonds, who could go wrong?
"Making Men HEROES!"
Personal
Name: Doug (49) & Mary Meadows (770-578-0598)
Web Sites:
Education: High School
Family: Mary (wife), Drew (17), Joseph (16), Peter (14), Emma (11), Samuel (7)
Business:  Jewelry Store
Hobbies:  Family, Computers, Traveling, Good Food
Home church: Restoration Life Christian Fellowship Marietta, GA
How it started: Doug grew up in Michigan with a father and grandfather also in the jewelry business. Although his family didn't attend church he was on the bus route to a Baptist church. At the age of 10 Doug and his brother David rode the bus and soon his entire family was saved and attending church.
Doug learned the jewelry business from his father and uncle and felt a calling to make money in business. Doug and Mary were married, when at the age of 20 and at 23, Doug moved to Georgia and started his own store with a partner. Doug knew the details of the bench work but lacked the other business skills of marketing, managing employees and monitoring his cash flow. In 1985 he got out of a partnership and started his own store with his brother, David. They struggled through the learning curve and eventually achieved one of their goals. David became a full time pastor while Doug continued in the jewelry business. Doug and Mary have 1 adopted child and 4 by birth which Mary has home schooled. Mary is an awesome wife and mother and an incredible encouragement to Doug.
Doug has been to Fiji and Africa. On each trip in saw opportunities to start other businesses. In Africa he gave a camera to a young man who started a photography business. That was followed up with a better camera, a cell phone and a bicycle to make adjustments so the new business could grow. Doug has worked with curriculum to teach a missions/business mix based on material from Life School International and Releasing Kings.
Personal Passion: After experiencing his dream to be entrepreneurial and own a business, Doug has enjoyed helping others start their dream process. Doug has used professional coaching and help from other jewelers to be successful in his own business and carries a burden to help others through the same process. He is particularly passionate about helping and ministering to other jewelers, many of whom are Jewish. He also enjoys the ministry aspect of his work in the marketplace; particularly reaching out to those he has contact during his normal daily routine… customers, employees, vendors, and salesmen.
Personal Benefit: Doug enjoys adding meaning to jewelry. Men don't usually understand the importance of jewelry to women. Doug "adds meaning" by helping people commemorate important milestones in life through a gift of jewelry. "Stones of Remembrance" is a concept he developed to help his customers celebrate life. Doug also enjoys sharing marketplace ministry ideas with other Kings in his own business area. He started a web site for other Christian jewelers in 2001 (see www.fjfj.cc).
Value to others: The ministry side of the jewelry business is helping people to be thoughtful and generous with those they love. Doug is good at helping people make tasteful and appropriate suggestions that communicate a Christian theme – often a prophetic message.
Business Potential (upside): Doug is growing his business to the next level through mail order catalogs and internet marketing. His concepts and products can be viewed online at www.daviddouglas.com. Christian jewelry is a recent emphasis in his business philosophy.
Complexities, failures (downside): Running a jewelry business requires costly inventory and a keen eye to track cash flow. Doug has implemented enhancements on Quick Books to track his financial status.
Vision for the Kingdom: Doug is an encourager and equipper. He loves to help people dream and set practical goals to make the dream come true. He also has a passion to start business in the third world and is working on a project in Zimbabwe to convert soy beans to cooking oil. (see www.ntbbd.com)
"Anyone who starts plowing and keeps looking back isn't worth a thing to God's kingdom!"    . . . . Jesus
Doug enjoys helping people "see" business opportunities that combine missions and prosperity. He has developed teaching materials to help businessmen in the third world become successful.
Impact from Releasing Kings: Doug read Releasing Kings when it first came out and has read the newsletters weekly since they began as well. The message helped him understand the value of his own business and ministry in the context of the Kingdom. He redefined himself as a King. For the first time Doug saw his inheritance in Christ and the potential for his personal involvement in the great commission. He is a pioneer in translating that royalty to micro-business startups in underdeveloped nations.
How Can Doug Help You: One of the simple ways to take advantage of Doug's ministry to call him when you need advice on a gift. He can make timely suggestions and walk you through his online catalog. Whether it's an anniversary, birthday, holiday, milestone or a covenant purity gift for your son or daughter, Doug can make a great suggestions. He can be reach during office hours and Saturdays at 770-578-0598. If you suffer from addictions to golf or fishing Doug may be able to help you dig yourself our of your hole. Listen to his humorous recording at http://www.daviddouglas.com/press/radio.htm.
Doug is also a great resource for networking Micro-business start-ups. He is currently working with Mark Charles on the missions front (see Mark's interview). His goal is to connect self-supporting missions opportunities with experienced Kings in developed nations. He shares our vision to make the great a commission a reality through the marketplace.