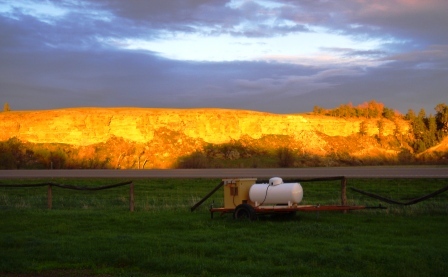 A sign – Dad's Home In Heaven
Kings and Fathers
I spent the last week attending my own father's funeral. He was 92 and ready spiritually and emotionally to go home to be with the Lord. I had the sense the timing was perfect. Regardless of his age, timing, etc., there are still a boat load of emotions and memories to sort through. The Lord spoke to me through this process about fathers and I would like to use this newsletter to share the story with you.
My dad (Ford Garfield) was born in 1913 and ranched in Montana on land he grew up on. Cowboys aren't generally noted for being spiritual, but God's finger print was very much on my father and the way he trained me for this life. Thus the first story:
Growing up – At 5 or 6, I was a skinny little kid with a big toothy grin. I went with dad the first time to feed the bulls. It was winter in Montana with a little snow on the ground – one of those quiet days when you can hear the bulls crunch the snow with each step. Dad gave me a broom to sweep out a couple of feed troughs before he gave them grain. This was a job I hadn't done before and beneath the layer of snow was a layer of ice that I wasn't getting to. Dad took the broom and showed me how to put a little elbow grease into it and get the trough properly cleaned out. I was pretty anxious to please him… I think all sons have a deep desire to please their father. Anyway, the bulls got fed, we put things back in the pickup, and I took the initiative to shut the tailgate on his 59 Chevy half ton. It was a metal tail gate and a metal box on the pickup. I wasn't about to be "delicate" with this next task so I slammed that tailgate as hard as I could. Dad was admiring his bulls when the tailgate went off like a shotgun blast on that cold clear day. I remember he ducked and whirled around to see what the h— happened. When we got home mom was interrogating him about his first trip out with his son. When she heard dad's story of my "sweeping" and my "tailgating", I overheard her response while pretending not to. She said something I'll never forget, "Well, Ford, you never take him with you." The conversation ended there, but from that day on I had a permanent seat next to the cow dog in that Chevy pickup. My father took me with him everywhere he went. He taught me how to work cows, train horses, fix fence, irrigate, run machinery, and how to have fun doing it. He was a wonderful teacher that was only occasionally short on patience as told by his colorful (then unsanctified) vocabulary. In the second half of my teenage years I resisted his authority on occasion and instead of increasing his control, he simply cut me a wider swath and increased my responsibility. He really was a velvet covered brick. I never did lose the satisfaction of doing something well to please my father. When I left the ranch for college I knew I was blessed with a special dad and a special upbringing that I wouldn't trade with anyone. On the day-long drive over to the funeral with Sue, the Lord spoke to me that in this next season I would inherit the mantle of my own father's destiny and calling.
A Sign – It rained the day of Dad's funeral. You have to understand that ranchers are always smiling when it rains so it was another confirmation of the "perfect timing". Sue and I stayed at my brother's ranch – part of the place dad had put together. In the last hour of the day the wind calmed and the sun came out and painted a beautiful red sunset on the rims across the Musselshell River that we could see from his house.  Notice the opening in the clouds above. It's a unique event in the natural and Sue pointed out that it was the Lord's way of saying all was well with Ford… it capped off a perfect day.
Knowing Jesus – In the summer between high school and college I met my "spiritual" father. Bob Hagstrom and his wife Evy led a Bible Study in their home for college age folks like me. Although mother took me to our small town Methodist church as a boy, I really went to Bob and Evy's Bible study no better than an agnostic with some intent to argue. The presence of God totally disarmed me and my hunger grew to experience what they had. Bob took the time after one of those sessions to chat with me about my spiritual walk and sent me home with some books by Francis Schaeffer (Escape From Reason was one as I recall). It wasn't formal or canned, but I got saved, and baptized and filled with the Holy Spirit as a result of Bob and Evy's ministry and everything the Lord has done in my life since has roots in that relationship.
Jesus mentored 12 for two and half short years. He did it by taking them with him wherever he went and simply meeting their needs and questions as they came up. I see Kings reproducing the same way. I believe we're in an apostolic age where "fathering" is being highlighted. It's rooted more in relationships than planned programs and I think it's as simple as finding the people that want to be like you and helping them through the process to actually go beyond our achievements. We'll be showing the next generation how to hear the Holy Spirit, how to find wealth and turn it into ministry, and how to release the Spirit of God in the Marketplace.
You're a Father – Father God has put a big investment in all of us. We're being given the opportunity to help others enter their kingly calling.
And he shall turn the heart of the fathers to the children, and the heart of the children to their fathers, lest I come and smite the earth with a curse. Mal 4:6
Even though you have ten thousand guardians in Christ, you do not have many fathers, for in Christ Jesus I became your father through the gospel. Therefore I urge you to imitate me. 1 Cor 4:15-17
Blessings,
This is my Dad